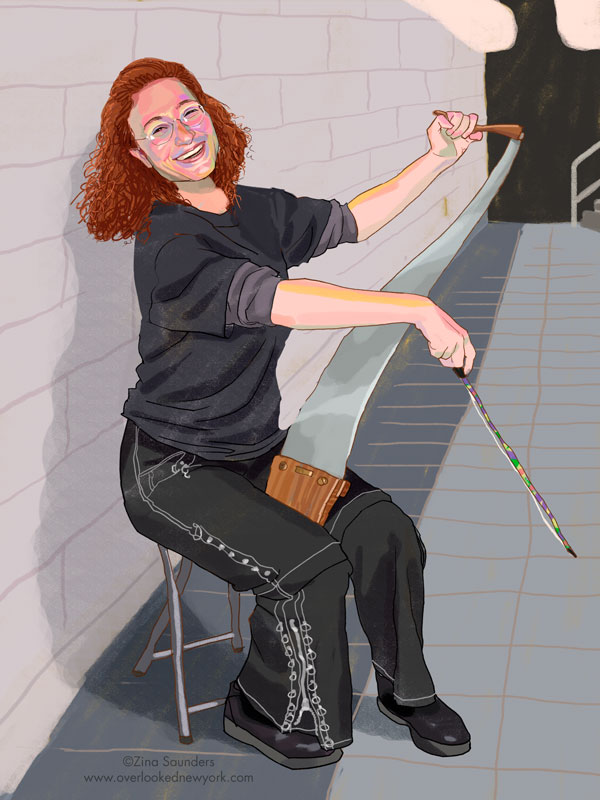 Natalia, age 31, says she loves the immediacy and connection with her audience when she plays in the subway; she feels her challenge is to break through their invisible wall and lure them in with her music.
"I used to be a dancer—I was a trainee with the Martha Graham Dance Company—and one day I was coming back from Lincoln Center and I was hit by a taxi cab. And that put an end to my dance career. So, to cheer me up, my parents took me on a trip to Austria, and we saw a folklore show for tourists, and part of the show was this guy who played the musical saw. And that was the first time I ever came across anybody playing the saw, and I was mesmerized...I was like, Wow! I felt like I had to do it, so I went backstage, and in my very-broken German, I asked him if he'd teach me how to play, and he said, 'No'. And I said, I'll pay you, of course, and he said, 'No!'
"He said, 'You don't need a teacher. Pick up the saw, imitate what you've seen me do on stage, and you will figure it out.'
"So, when I came back home, I borrowed my landlady's old saw, and I imitated what I'd seen that guy do on stage, and I figured it out. Now, today I know he wasn't just like brushing me off, this is a tradition; the tradition is to teach yourself how to play the saw, finding it on your own. If you take lessons from somebody, other saw players might look down on you. You pick it up, and you make it your own.
"This particular saw … OK, this is the story: I was playing in Times Square on the platform, and this undercover police lady gave me a ticket for $150! Not because I was too loud, not because I was blocking the way or whatever; but because she said that the teeth of the saw are a weapon. So this saw is toothless, and I tell people it's old and it's already lost it's teeth. But fortunately, it makes no difference for the sound, because the teeth would be traditionally facing me and I'd be playing on the other side of the blade, so the fact that the teeth are missing makes no difference whatsoever.
"There's so much I like about playing in the subway. First, I should tell you that I've played in subways in other cities and other countries, like in Paris and in Rome and in Prague, but New York City is my favorite because the acoustics here is phenomenal. It's to die for. Honestly, I mean I've played at like great concert halls, like Avery Fisher Hall at Lincoln Center or even the Verizon Hall in Philadelphia, which has wonderful acoustics, but nothing beats the acoustics of the New York City subway! It's such a pleasure playing here!
"My favorite subway station is Times Square. My favorite thing is Monday morning—even though any busker would tell you that Monday mornings are not a good time; people are starting their work week and they're not particularly happy—still, every monday morning, from eight to noon, I play at Times Square. I like to think about it as, in my small way, I'm helping to wake up New York and get it started on a new week. I think to myself, 'Wow, I'm in Times Square, which is known as the center of the world, and I get to fill the center of the world with my music!'"